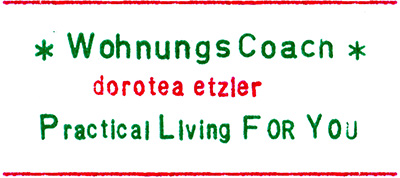 Wohnungscoach offers practical living for you!
Do you feel uncomfortable within your flat?
Is your flat too big or too small, too full or too empty?
Would you like to optimize your flat individually without much effort?
Then you are the perfect candidate for Wohnungscoaching!
Wohnungscoaching is a professional discussion of your troubles in terms of housing and living. As a Wohnungscoach I will provide you with a variety of highly individual suggestions, that are quick and easy to follow.
A wide range of qualifications help me to deliver a fully comprehensive handling of your matters. I work with empathy and a rich imagination in order to optimize your way of living.

Our talk will take place outside your home which will guarantee an impersonal assessment of your needs. Also it will help you to open up your mind to new perspectives and strategies. There is absolutely no need for any preparation in terms of taking photos or measurements!
Abase your descriptions and with the help of sketches I will provide suggestions that may help you to feel happy at home again!

Are you curious about Wohnungscoaching?

Coming Thursday 28/5/2015 there are two available bookings at 5 and 6 p.m.
Please mail to info@ressort-leitung.doroteaetzler.de or call 03021092660 to arrange a meeting.

I look forward to meeting you in person!


Further Consultation and Coaching Sevices of Ressort-Leitung: Special service: You may voluntarily purchase a fee stamp worth of 7 € at the cashier counter.

Here you are in Section 1 Practical Living & Sustainability
Return to the English main page of Ressort-Leitung
Go back to the general main page of Ressort-Leitung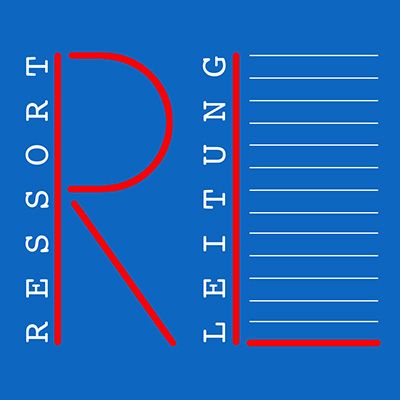 Ressort-Leitung - a new concept that connects art, bureaucracy and coaching
Every two months, at the last Thursday, from 5-9 pm at the Abteilung für Alles Andere
Institut für Alles Mögliche, Ackerstr. 18, Berlin-Mitte www.i-a-m.tk
+ + + + Further dates: 28/5/2015 + + + 30/7/2015 + + + 24/9/2015 + + + +